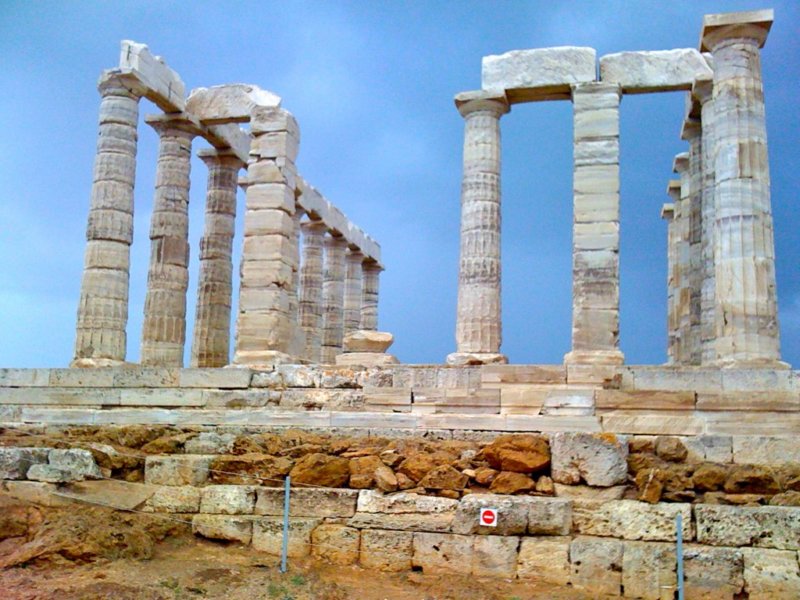 A :
Airport : Athens International Airport "Eleftherios Venizelos" began operation on 29 March 2001 and is the primary civilian airport that serves the city of Athens. The airport serves just under 13 million passengers annually and currently has two terminals: the Main Terminal, and the Satellite Terminal accessible by a foot-tunnel from the Main Terminal.
B :
Business hours : Monday & Wednesday 09:00 – 14:30
Tuesday , Thursday & Friday 09:00 – 14:00 & 17:30 – 20:30
Saturday 09:00-14:30
C :
Climate :  The climate in Greece is predominantly Mediterranean. However, due to the country's unique Geography of Greece has a remarkable range of Microclimate and local variations. To the west of Pindus mountain range, the climate is generally wetter and has some maritime features. The east of the Pindus mountain range is generally drier and windier in summer. The highest peak is Mount Olympus at 9,570 feet (2,916.9 m) tall. The north areas of Greece have a transitional climate between the continental and the Mediterranean climate. There are mountainous areas that have an alpine climate.
Communication : Greeks prefer face-to-face meetings rather than doing business by telephone or in writing, which are seen as too impersonal. It takes time to develop relationships: this can be done in the office, over extended lunches, dinners, and social outings. Never say or do anything that can be construed as challenging the honour or integrity of a business colleague. Although business is relaxed, it is also serious. Acting informal before a relationship has developed is considered discourteous.
Country : Greece officially the Hellenic Republic and known since ancient times as Hellas is a country in Southern Europe. According to the 2011 census, Greece's population is around 11 million. Athens is the nation's capital and largest city. Greece is strategically located at the crossroads Europe , WESTERN Asia and Africa and shares land borders with Albania to the northwest, the Macedonia and Bulgaria to the north and Turkey to the northeast. The country consists of nine geographic regions,
Cuisine: Greek cuisine is a Mediterranean Cuisine, sharing numerous characteristics with Middle Eastern cuisines of the region. Contemporary Greece cookery makes wide use of olive oil, vegetables and herbs, grains and bread, wine, fish, and various meats, including lamp and mutton, poultry, rabbit and pork. Also important are olive, cheese, eggplant (aubergine), zucchini (courgette), and yogurt . Greek desserts are characterized by the dominant use of nuts and honey. Some dishes use Phyllo pastry.Mezes is a collective name for a variety of small dishes, typically served with wines or anise-flavored liqueurs as Ouzo orTsipouro. Orektika is the formal name for appetizers and is often used as a reference to eating a first course of a cuisine other than Greek cuisine.
Currency and credit cards :The currency in Greece is the euro (pronounced evro in Greek), abbreviated "eu" and symbolized by €. (If you still own the old drachmas, it is no longer possible to exchange them.)
The euro comes in seven paper notes and eight coins. The notes are in different sizes and colors. They are in the following denominations: 5, 10, 20, 50, 100, 200, and 500. (Considering that each euro is worth over $1, those last bills are quite pricey!)
In commercial centers, airports, all cities and larger towns, and most tourist centers, you will find at least a couple of machines accepting a wide range of cards. Smaller towns will often have only one ATM — and it may not accept your card. Commercial Bank (Emboriki Trapeza) services PLUS and Visa; Credit Bank (Trapeza Pisteos) and AlphaBank accept Visa and American Express; National Bank (Ethiniki Trapeza) takes Cirrus and MasterCard/Access.
Note: Greek ATMs accept only a four-digit PIN — you must change yours before you go. And since Greek ATMs use only numeric PINs (personal identification numbers), before you set off for Greece be sure you know how to convert letters to numerals as the alphabet will be in Greek.
In Greece, Visa and MasterCard are the most widely accepted cards. Diners Club is less widely accepted. And American Express is still less frequently accepted because it charges a higher commission and is more protective of the cardholder in disagreements.
Customs :Greek Customs
E :
Easter in Greece The Feast of all Feasts.Considered the most important holiday on Greek calendar and one of the richest in folklore, the celebration of Orthodox Easter (Pascha) is unique throughout Greece. From Crete to Macedonia, Easter customs become a herald of the spirit's and nature's rebirth, while Easter celebrations constitute a vivid aspect of the folk culture, rich in meaning and symbolism.
Easter is a moveable holiday. Its celebration falls on the first Sunday after the full moon of the spring equinox. All over Greece, a plethora of customs and traditions are observed during the week prior to Easter, the "Holy Week".
Friday is the most sacred day of the Holy Week, the day of the culmination of the passion of Christ with the deposition from the cross and Christ's burial. Because it is a day of mourning, housewives avoid doing housework. Women and children go to church to decorate the Epitaph (Bier of Christ) with flowers, while in the evening the Epitaph procession takes place. On Saturday morning, preparations start for the festive dinner and a special soup is cooked called "maghiritsa".
Shortly before midnight, people gather in church holding white candles which they light with the "Holy Light" distributed by the priest. When the latter chants "Christ is risen" (Christos Anesti), people exchange wishes and the so-called "Kiss of Love". With the "Holy Light" of the candles they make three times the sign of the cross on the door post over the front door of their houses for good luck. Then they all gather around the table, they crack red eggs and wish one another Christos Anesti. On Sunday morning, mainly in Greek countryside, lamb is prepared on the spit and people eat and dance usually until late at night.
Did you know?
• In Greece, people celebrate the "name day" of the saint that bears their name rather than their own birthday.
• There are over 4000 traditional dances that come from all regions of Greece. There are also Pan-Hellenic dances, which have been adopted throughout the Greek world.
• Greeks do not wave with an open hand. It is considered an insult to show the palm of the hand with the fingers extended.
Electricity :The PPC S.A. (ΔΕΗ) is the biggest electricity power in Greece.The voltage in Greece is 220 volts.
G :
Guetting around : Greece is an easy place to travel around thanks to a comprehensive public transport system.Buses are the mainstay of land transport, with a network that reaches out to the smallest villages. Trains are a good alternative, where available. To most visitors, though, travelling in Greece means island-hopping on the multitude of ferries that crisscross the Adriatic and the Aegean. If you're in a hurry, Greece also has an extensive domestic air network.
L :

Languages : Greek ( ελληνικά "Greek" and ελληνική γλώσσα "Greek language") is an independent branch of the Indo – European Languages family of languages.  Greek roots are often used to coin new words for other languages; Greek and Latin are the predominant sources of scientific vocabulary. The most of the greeks are speaking english and french.
P :
Post : For letters, greeting cards, invoices, bills and other items classified as letter mail which you wish to be delivered fast, you can use Hellenic Post (ELTA) . Same price for the stamps in all europe.
Population : The official statistical body of Greece is the Hellenic Statistical Authority (ELSTAT), according to which Greece's total population in 2011 was 10,815,197. Greek society is fairly homogenous, with 94 percent of the population being Ethnic Greeks who speak the Greek language. Subsequently, the average Greek family is smaller and older than in previous generations.
Political structure : Greece is a Parliament Republic. The nominal Head of State is the President of Greece, who is elected by Hellenic Parliament for a five-year term.
Legislative powers are exercised by a 300-member elective Unicameral Parliament. Statutes passed by the Parliament are promulgated by the President of the Republic. Elections in Greece are held every four years, but the President of the Republic is obliged to dissolve the Parliament earlier on the proposal of the Cabinet, in view of dealing with a national issue of exceptional importance.
R :
Religion : The Greek Constitution recognizes the Greek Orthodox Church as the "prevailing" faith of the country, while guaranteeing freedom of religious belief for all. The Greek government does not keep statistics on religious groups and censuses do not ask for religious affiliation. According to the U.S. State Department, an estimated 97% of Greek citizens identify themselves as Orthodox Church, belonging to the Orthodox Church.
S :
Safety : To be fair, Greece is no different than any other southern European country in terms of safety. Foreign visitors don't have to worry about being targeted because of their ethnicity. But petty crime, theft, burglaries, and robberies occur with much more frequency today than last decade, so visitors should exercise common sense precautions the same way they do when they visit any other European country.
Shopping : Greece is the ideal destination for buying goods, offering a wide range of products that will satisfy every taste and desire. Here you will find all the European brand-names, the renowned multinational chains, as well as many Greek products – either in clothing-shoes or popular art or décor. The price-tags on these products vary, so as to satisfy the wallet of every visitor.
The opening hours of the stores are not the same everywhere in the country. The usual opening hours for stores in the centers of the large cities are continuous (9:00 a.m.- 9:00 p.m.), for suburban stores the working hours are split shifts three days a week (Tuesday, Thursday and Friday – 9:00 a.m.-2:30 p.m. and 5:30 p.m.-8:30 p.m.) and morning shifts for the other three days (Monday, Wednesday and Saturday – 9:00 a.m.-3:00 p.m.). Supermarkets operate a continuous shift up to 9:00 p.m., while all the stores are closed on Sundays.
However, you will come across various stores (mini-market, wholesale cigarette stores, kiosks) that remain open almost day and night -even on Sundays- especially those situated in tourist regions.
Swimming : Millions of visitors flood the shores of Greece every day to enjoy swimming, sunbathing, and other seaside activities. The country's topography puts everyone within a short drive distance from the sea, but most choose to stay right by the sea.
The Greek coast is filled with spectacular beaches that are some of the cleanest in Europe. In fact, the sea and the sun are one of the major reasons so many visitors choose Greece over other destinations. During the months of July and August the sun shines constantly and cloudy or rainy days are very rare.
The sand varies in its quality and quantity from place to place, as is the organization of the beaches.
The organized beaches that require an entry fee are usually located around major cities, and especially around Athens.
T :
Time zone : Greece is in the Eastern European Time Zone.
Greece is GMT/UTC + 2h during Standard Time
Greece is GMT/UTC + 3h during Daylight Saving Time
Time zone: EET (Eastern Europe Time)
Current time zone offset: +02:00 hours
Travel documents : Passports. For EU citizens who travel to Greece, no passport is required, just the identity card with latin characters is enough. For the non EU citizens, a valid passport is necessary to enter Greece. In case you lose your passport in Greece, the local police and the embassy of your home country must be contacted. It is recommended to have a photocopy of your passport in order to get the process of replacement quicker.
Visas All citizens of foreign countries, except for the countries of the European Union, the USA, Canada, Australia and New Zealand, need a visa to enter Greece. For more information, contact the Greek National Tourist Offices in your country or the Embassy & Consulate of your country in Greece.
IDS. A passport can serve like an ID. Apart from the official identity card of your country, other form of identification is the driving licence.
Animals' documents. Animals (pets) require a valid health certificate to enter Greece.
Telephone : The International country calling code of Greece is  00+30
Greece Mobile Telephone Codes
694 Vodafone
697 CosmOTE Mobile
699 Q-Telecom Mobile
Greece Emergency Telephone Numbers
112-Emergency (general)
100- Police
166-Ambulance
199-Fire Department
Before you leave for your trip to Greece you should call your mobile carrier to let them know you will be traveling internationally. In many cases, making calls from abroad is blocked and all it takes is a phone call to have this ability activated.
Water : A glass of water is traditionally served with any drink you order; one glass for each drink, especially with any form of coffee. Sometimes you even get a glass of water first and then get asked what you want to drink!
Tap water in most places a traveler would go today is drinkable; if in doubt, ask your hotel. But often though technically drinkable it doesn't taste very good, especially on some small islands (as it is imported in and heavily chlorinated), and many travelers, like many Greeks, prefer to stick to bottled water. By law, water prices in shops must remain within acceptable limits (50 eurocents for 1/2 litre), making it much cheaper than in Anglosphere nations.